I think it's about time we made a thread to share recipes and food ideas.
I will start off with a favorite desert of mine.
Chocolate peanut butter no-bake oatmeal cookies!
Ingredients:
2/3 cup maple syrup
1/4 cup cooking oil
5 tsp cocoa powder
1 tsp ground cinnamon 
1/2 cup peanut butter (Chunky or smooth, both work great)
2 cups oats (I prefer quick oats, but whole oats work well too)
Preparation: 
add oil, syrup, cinnamon, and cocoa powder in a small saucepan. cook on medium/low heat until boiling, stirring constantly. 
once boiling, turn off heat and add peanut butter and oats. mix well and spoon onto wax paper or a nonstick pan of some sort. 
Pop into the freezer for 25-30 minutes or until cooled and hardened.
Enjoy!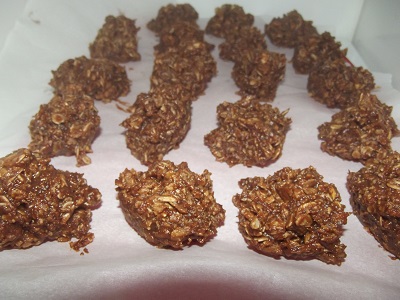 _________________
Record

Games won:
 5
Games lost: 
7  

Games survived:
 4
Games deceased:
 8  

Games hosted: 1

Thunderdome


Godfather






Posts

: 1043


Join date

: 2013-08-04


Age

: 30


Location

: Summoners Rift



i also have an amazing recipe for Tofu burgers/nuggets

You will need super firm tofu for this. Extra firm will not work.
A bowl of chibi ground oats, or quick oats.
A bowl of Cornmeal.
1 cup soymilk in a bowl or shallow dish.

Take your block of tofu and cut it into desired size chunks.
cover tofu chunks one at a time in quick oats, or oats ground in a blender to a chibi consistency. 
After being covered in oats, dunk each block in soy milk, and coat it this time with the cornmeal. 

Fry your tofu in a medium amount of olive oil on medium/high heat till brown and crispy on each side. Serve with Ketchup or mustard, and Enjoy!
_________________
Record

Games won:
 5
Games lost: 
7  

Games survived:
 4
Games deceased:
 8  

Games hosted: 1

Thunderdome


Godfather






Posts

: 1043


Join date

: 2013-08-04


Age

: 30


Location

: Summoners Rift



<3 I love these meals. xD

natashasurgirl


Godfather






Posts

: 1868


Join date

: 2013-08-04


Age

: 27


Location

: Sunset Valley



_________________
Record

Games won:
 5
Games lost: 
7  

Games survived:
 4
Games deceased:
 8  

Games hosted: 1

Thunderdome


Godfather






Posts

: 1043


Join date

: 2013-08-04


Age

: 30


Location

: Summoners Rift




---
Permissions in this forum:
You
cannot
reply to topics in this forum